Ancel V6 OBD2 Diagnostic Scanner Professional Full System Car Diagnostic Tool
customers are viewing this product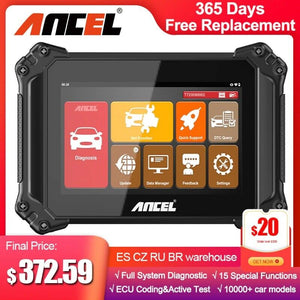 Ancel V6 OBD2 Diagnostic Scanner Professional Full System Car Diagnostic Tool
ANCEL V6 OE-Level Full System Full Function+ECU Coding&Hidden Function for VW,for AUDI+2 Year Free Update+Bi-directional&Active Test+15 Special Functions+Remote Technical Support+Diagnostic Report Share&Print+Multi-languages Support+32GB Storage
Why Choose Ancel V6 Full System Diagnostic Scanner?
Ancel V6 is a proffessional efficient and convenient diagnistic tool for passenger car.
(1)Powerful quad-core Cortex-A53 2.0GHz processor with faster 2GB LPDDR4 and reliable 32GB On-board memory
(2)Android 10.0 OS running on 8.0 inch IPS Multi-touch capacitive touch screen
(3)Unique ergonomic design with rubberized outer protection and a rugged internal housing
(4)Built-in rechargeable lithium-polymer battery for up to 8 hours of continuous operation
(5)OE-Level full-systems coverage for more than 10000 car models
(6)Supporting 15 most commonly used service Reset Functions
(7)Remote Technical Support via Teamviewer
(8)Support Multi-languages:English, French, Spanish, German, Russian, Korean, Japanese, Portuguese, Italian, Polish, Dutch
(9)Support ECU Coding&Action Test for some car models
(10)Support 2 Year Free Update
ANCEL V6 ECU Coding For VW Audi
The Coding function is used to re-flash the vehicle control modules .ANCEL V6 automotive diagnostic tool allows you to reprogram adaptive data for certain components after making repairs or replacements, providing ways for the issues of Drivability, Fuel Efficiency, Power Loss, Fault Codes, Durability of Mechanical Parts.

ANCEL V6 car diagnostic scanner is able to modify the adaptive data for vehicle control modules after repairs or replacements of vehicle parts.

power window
llluminatedentry
warning, light control
slide roof, air conditioner
and more...
Compatibility will differ from specific year and vehicle. Please check compatibility if necessary.
ANCEL V6 OBD2 Diagnostic Scanner Bi-directional
Supports Active Test to figure out whether a specific subsystem or component in vehicles goes well
Please check compatibility if necessary.
Ancel V6 Full Systems Diagnosis
To diagnose Brake System if you feel the brake pedal is mushy and notice unusual odor or noise, etc. A properly operating brake system is critical to ensure safe vehicle control and operation;

To diagnose Emission System if the system is affected by vehicle age or poor quality fuel. A good emission system reduces harmful gases to a large degree and protects you from being fined;

To diagnose Fuel system if vehicle won't start or "Check Engine" light is illuminated. Check car's fuel system regularly ensures the best performance of your car with the lowest emissions;

To diagnose Transmission if your car is slipping or difficult to shift. The system plays an important part in the overall performance of your car;

To diagnose Wiper System if you observe chattering or streaking wiper. If the car is not regularly checked, the accident might happen because you can't see clearly;

To diagnose Light System if you see rapid signal blinking or dimming lights.

And many more ...
15 Kinds of Special Reset Service Functions
1.Oil Lamp Reset Service
Allows you to perform reset for a new calculation of Engine Oil Life system once changed the oil.

2.EPB Electronic Park Brake Reset
It is important in the maintenance of electronic braking system's safety and efficiency.

3.BAT battery service
Allows the scan tool to evaluate the battery charge state, monitor the close-circuit current, register the battery replacement, and activate the rest state of the vehicle.

4.DPF Diesel Particulate Filter Reset
Specially works for Diesel Particulate Filter system with DPF regeneration, DPF component replacement teach-in and DPF teach-in after replacing the engine control unit.

5.SAS Steering Angel Sensor Reset
Helps clear the fault steering angle sensor memories and plays an important role in the steering angle sensor calibration.

6.TPMS Tire Pressure Monitoring System Reset
Makes sense in displaying sensor IDs from the vehicle's ECU, inputting TPMS sensor replacement IDs and testing sensors.

7.IMMO Key Programming (Car Model Limit )
The unique car key programming and read pin code function, it is mainly used to disable the lost vehicle keys and program a new replacement key fob.

8.ABS Bleeding
ABS brake bleeding to get a firm brake pad after air exhaustion after repair ABS pump system.

9.Sunroof Reset
The sunroof needs to be reset when the sunroof control unit have communication problem or changed.

10.Suspension Reset
Try reset electronic suspension air ride with the massage system close all doors koeo flip through messages system go to suspension reset or on off.

11.Gearbox (Transmission )Reset
Procedure Reset Transmission Adaptive Learning DIY. Start the car and drive. Once you perform this procedure the Engine Control Unit (ECU) and Transmission Control Unit (TCU) will work together to learn how you drive by monitoring your driving pattern. After you follow this programming method of the TCU / ECU drive the car.

12.AFS Headlamp Reset
'AFS' means Adaptive Front lighting System (at night with the Bi-Xenon headlights) it swivels either side, pressing that button means they stay pointing straight ahead and don't turn when you turn the steering wheel.

13.Injector Coding
Leaking injectors and some dead injectors can be missed even when an injector is disabled. Other problems with the ignition system and mechanical components also may not show an rpm loss when an injector is turned off.

14.Throttle Adaptation
The throttle body is a tube containing a pivoting flat valve (butterfly) that is used to control the amount of air entering an engine. In an electronically fuel injected car, a throttle position sensor and air flow sensor communicate with the computer, which supplies the corresponding amount of fuel needed at the injectors. It must need re-learning throttle sensor position after clearing or repair.

15.Gear Learning
The scan tool monitors certain camshaft position sensors signals to determine if all conditions are met to continue with the procedure for Engine running.


Please check compatibility if necessary.
More car models support 21+ special functions,not only 15 special functions
Please check compatibility if necessary.
4 Live Data Steam Combine in one Graphic
Ancel V6 OBD OBD2 Car Diagnostic Tool Support Languages:
English, French, Spanish, German, Russian, Korean, Japanese, Portuguese, Italian, Polish, Dutch
ANCEL V6 Full System Diagnostic Scanner support car brand
ASIA Area:
for ACURA,for ASIAGM, for DAEWOO, for DAIHATSU, for HONDA, for HYUNDAI , for INFINITI, for ISUZU, for KIA, for LEXUS, for MAZDA, for MITSUBISHI, for NISSAN, for PERODUA, for PROTON, for SSANGYONG, for SUBARU, for SUZUKI, for TOYOTA, for TATA, for MAHINDRA, for MARUTI.

EUROPEAN Area:
for ABARTH, for ALFA, for ASTON MARTIN, for AUDI, for BENTLEY, for BENZ, for BMW, for BUGATTI, for CITROEN, for DACIA, for FERRARI, for FIAT, for FORDEU, for JAGUAR,for LAMBORGHINI, for LANCIA, for LANDROVER, for MASERTI, for MINI, for OPEL, for PEUGEOT, for PORSCHE, for RENAULT, for SAAB, for SEAT, for SKODA, for SMART, for VAUXHALL, for VOLVO, for VW.

AUSTRALIA Area:
for HOLDEN, for AU FORD .

CHINA Area:
for BYD, for CHANGAN, for CHANGHE, for CHERY, for EMGRAND, for ENGLON, for FOTON, for GEELY, for GLEAGLE, for GWM, for HBSH, for HUACHEN, for LIFAN, for WULING, for YUAN.

Brazil Area:
for GM,for Fiat,for VW
ANCEL V6 Special Function Car List