Ancel JP700 OBD2 Car Diagnostics Scanner JOBD EOBD Code Reader OBD2 Auto Scanner
customers are viewing this product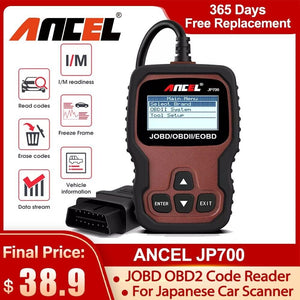 Ancel JP700 OBD2 Car Diagnostics Scanner JOBD EOBD Code Reader OBD 2 Auto Diagnostic Scanner For Honda Toyota Nissan Mitsubishi
Top Reasons to Chose OBD2 Ancel JP700
1.It support JOBD , OBD2 protocols , means It support old Japanese cars from 2000 to now.

2.Support Multi-language: English,Russian

3.It support different modes for JOBD and OBD2 cars.

OBD2 Function Including: Read code, Clear code, Live data, Freeze frame, I/M readness, Vehicle Information reading

JOBD Function Including: Read code, Clear code

4.JOBD Brand Including: for Toyota, for Honda, for Daihatsu, for Mitusbishi, for Mazda, for Nissan, for Suzuki, for Subaru, for Lexus, for Ifiniti, for Acura
ANCEL JP700 JOBD OBDII & EOBD SCANNER
ANCEL JP700 adds support for the JOBD protocol, covers most Japanese cars. But it is not limited to Japanese cars, it also supports most 1996 US-Based, 2000 EU-Based and Asian cars. Other similar scanners claim to be able to work on all of the 1996 or newer cars, but buyers found that a lot of Japanese cars are not supported, because many Japanese cars are JOBD protocol, but ANCEL JP700 scanner really can support.
OBD2 Auto sacanner JP700 Support Functions
Ancel JP700 OBD2 Car Diagnostics JOBD Function for Japanese Cars:
1.Read Code
2.Erase Code

Ancel JP700 EOBD/OBDII Scanner Functions:
1.Read Code
2.Erase Code
3.Live Data Stream
4.I/M Readiness
5.View Freeze Frame
6.Vehicle Information
7.Turn Off MIL Light
Following Vehicles Without OBD2,So the scanner can't work.

For Nissan blyberd silf 2001

For Nissan Almera Tino 2002

For Nissan Ad 2000,2.2cc, diesel

For Nissan Xtrail 2002, diesel 2.2

For Mitsubishi Pajero 3, 2003

For Mitsubishi pajero 2000

For Misubishi Galant 2001

For Mitsubishi Space 2000

For Mitsubishi Pajero 3, 2003

For mitsubishi lancer cedia wagon/1.8 GDI/ 2001

For Mitsubishi pajero 2004 year 3,5 liter

For Toyota avensis D4d 2001

For Toyota Ipsum 2003

For Toyota vitz 2001

For Toyota Verso 2001

For Toyota Corolla 2001

For Suzuki baleno year 2000

For Honda saber 2002

NOTE:

Please let us know your car model and its release year if you couldn't sure whether your car with OBD2.We will check it for you.Thanks!

For Example:"Toyota Corolla Gas 2005 Is work?"