ANCEL HD601 Heavy Duty Truck Code Reader Full System OBD2 Diagnostic Scan Tool
customers are viewing this product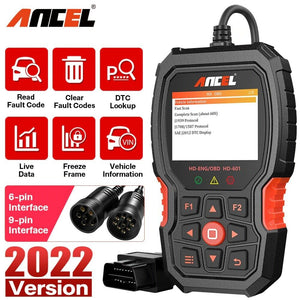 ANCEL HD601 Heavy Duty Truck Code Reader Full System OBD2 Diagnostic Scan Tool Check Engine for Freightliner Cummins Code Reader
ANCEL HD601 heavy duty truck scanner is a handheld diesel diagnostic tool for most all American trucks. It can quickly and easily access the vehicle's ECU (electronic control units) and sensors. Designed for professional mechanics, home-use customers, beginners, DIYers and so on. Perform all systems auto scan for most all American commercial vehicles, capable of in-depth diagnosis of Engine, Transmission, ABS, SRS, TPMS, CAS, CBS, ADS, ECM, DME/DDE, EGS, Battery, Headlight, Air Conditioner, Video. As a professional heavy duty truck code reader, it supports trucks and cars engine diagnostics, such as read codes, clear codes, vehicle informations, view freeze frame, DTC look-up. It supports lifetime free updates, and in fact, our technical team is constantly updating its database and software. Equipped with a 2.8-inch color screen, the user-friendly plug-and-play design makes your diagnostic work smoother and more efficient.
Warm tips:
1. Please check your truck informations to make sure your truck ECU complies with protocol standard SAE J1708 and SAE J1939.
2. If your vehicle is a heavy duty truck, please select the "HD OBD" menu and press Enter (or press F1) to access the HD OBD diagnostic page; If your vehicle is a car, mini truck, SUV, or other light duty vehicles, please select the "WWH-OBD" menu and press Enter (or press F2) to access the WWH-OBD diagnostic page.
3. Please let me know if you are not sure whether this scanner is compatible with your truck or not.
ANCEL HD601 OBD2 Truck Scanner
HD OBD: Diagnostic procedures for diesel 6/9 OBD vehicles.

WWH-OBD(World-Wide Harmonized On-Board Diagnostics): Diagnostic procedures for vehicles complying with ISO 27145-4 and ISO 14230-4, ISO 15764-4 and ISO 9141-2 protocols.

SETTINGS: Set the measurement unit (English/Metric) and language (English/Spanish).

ABOUT: Find the serial number and version number of the product and update the software version (connect the code reader to a PC with update software via the USB interface).
Full System Diagnostic Scan Tool for heavy duty trucks
HD601 diesel scanner tool can do a full Systems diagnostic for most American trucks, included Engine, Transmission, Body Controller, Chassis Control, Cruise Control, ABS, Instrument Cluster, Gateway etc. Make it easy for you to have accurate information to avoid auto repair scams. No training required.
Engine System: Read the fault codes and find the cause of warning light, point you in the direction of where the problem was. HD601 diesel code reader will show you the live data stream in graph , like fuel, cylinder misfire, intake air temperature and so on. Turn off the warning light after repair or maintenance.
Transmission System: It can help before transmission problems become a big hassle. That's because most trouble codes come from your truck's transmission. With a transmission diagnostic tool, you can get a fault code if there is one. All you need to do is troubleshoot a fault code.
ABS (Anti-lock Braking) System: The HD601 heavy truck scanner diagnoses ABS problem always start with a visual inspection of all brake components, read ABS trouble codes and view the live data to find out exactly where the problem was and reset the warning light after repair or maintenance.
SRS (Airbag) System: Made up of impact sensors, control module and airbags. When the control module detects a problem with the airbags or sensors, the Malfunction Indicator Light( MIL) will turn on. HD601 can retrieve the SRS issues timely to ensure your driving safety, and turn off the warning light of Airbag.
In addition to diagnosing these common truck systems, other systems can also be diagnosed, such as Integrated Control System, Integrated Safety System, Motor Control System, Battery/ SCR, Suspension System, Pro-Shift, Inverter, Kneeling, Drivetrain, Scanning Cruise/LDWS/PCS, Tire Pressure Monitoring System, Ldfing Stop System, Clutch System, Anti-Theft System, Blocker, PESS (Passive entry and Start System), PIM (Powertrain Interface Module), Chassis ESC, Air Suspension, Headlight Auto-leveling, etc.
Comprehensive Diagnostic Scanner
HD601 diagnostic scanner is exclusive for most American heavy-duty trucks & 12v vehicles, enthusiasts, DIYers, independent repairs, specialized garages and technicians. It is a professional car scanner worth having.
What HD OBD functions does HD601 have:
Read fault codes: Read the fault code information retrieved from the vehicle system module.

Clear fault codes: Clear the error code and still image data retrieved from the vehicle system module.

Show Freeze Frame data: This is a snapshot of the data captured by an electrical sensor almost immediately after the sensor detected an issue.

Live Data: Read and display the real-time operating parameters of the current system module.

Read ECU Information: Read and display the control system module information retrieved from ECU.
Reliable Features:
CPU: 100MHz

Display 2.8 inch LCD

Flash: 8M

Diagnostic Interface: Main line OBDII and Transfer line Diesel-6/9

Work Voltage: DC 9V~36V

Work Temperature: -20℃~65℃
ANCEL HD601 support Lifetime Free Update
1) Download the upgrade program from www.anceltech.com to a Windows 10 computer.
2) Connect the reader to the Windows 10 computer via a mini USB cable.
3) Select the ABOUT/Update Mode menu, and the reader will enter the update mode.
4) Launch the update program on the Windows10 computer and select the appropriate port.
5) Click the Start Upgrade button to perform the upgrade.
6) When the upgrade is completed, the prompt will appear on the screen. You can look up the new version number in the ABOUT/Tool Information
menu of the code reader.
Note:
If the update interrupts and the system crashes, you can try to re-enter the update mode through the following steps:
1) Pull out the USB cable and hold the reader off, and then press the Enter key.
2) Connect the reader to the Windows 10 computer via a mini USB cable.
3) Release the Enter key when three indicator Lights on the reader light up, and then the reader enters the update mode again.
Heavy Duty Trucks Scanner Support Models
Product Parameters
Name Parameter
CPU 100MHz
Display 2.8 inch LCD
Flash 8M
Diagnostic Interface Main line OBDII and Transfer line Diesel-6/9
Work Voltage DC 9V~36V
Work Temperature -20℃~65℃
Dimension 165mm*97mm*33mm
Product Package
1*box
1*HD601 Handheld Truck code reader
1*6/9 pin connect cable
1*Manual