ANCEL HD3400 OBD2 Truck Scanner Full System Diagnostic Engine Analyzer DPF Tool
customers are viewing this product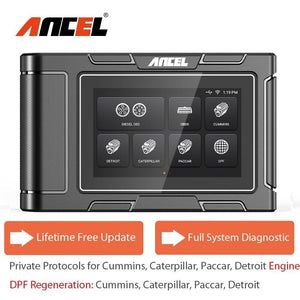 ANCEL HD3400 OBD2 Truck Scanner Full System Diagnostic Engine Analyzer DPF Regeneration for Cummins for Caterpillar Auto Scanner
Private Protocols for Cummins, Caterpillar, Paccar, Detroit Engine
DPF Forced Regeneration: Cummins, Caterpillar, Paccar, Detroit
ANCEL HD3400 support DPF Regeneration
DPF Forced Regeneration: Cummins, Caterpillar, Paccar, Detroit
ANCEL HD3400 HD Engine Analyze
Private Protocols for Cummins, Caterpillar, Paccar, Detroit Engine
Read Fault Code: Read the fault code information retrieved from the vehicle system module
Erase Fault Code: Clear the fault code and freeze frame data retrieved from the vehicle system module
Live Data: Read and display the real-time operation parameters of the current system module
Ancel HD3400-Full System Heavy Duty Truck Diagnostic Tool
This Ancel HD3400 is a full system diesel truck scanner diagnostic tool, which allows you to read codes, clear codes, retrieve vehicle information and graph live data stream for all available control modules
ANCEL HD3400 support Model List
Engine Model:
For Cummins:Freightliner、Kenworth、Autocar、Peterbilt、Komatsu、Bobcat、Terex、Sany etc

For Caterpillar:Carter Construction Machinery, Kenworth, International, Peterbilt, Ford (750) etc

For Detroit:Freightliner,Kenworth,Peterbilt, Western Star etc

For Paccar:Kenworth, Peterbilt ,DAF, Leyland etc
Pin Detect Function
This function mainly automatically measures the voltage of the OBD diagnostic interface, and judges the pin positions of the K line and the CAN line.
Diagnostic Report Print&Share
ANCEL HD3400 Truck Diagnostic Scanner support Lifetime Free Update via WIFI
ANCEL HD3400 One-Click Feedback
This diagnostic tool supports one-click feedback. You can give us your feedback via this function if you have diagnostic problems, ANCEL professional technical team will provide you with excellent solutions.
Printer Hardware Parameter
Printer 80mm Thermal printer
Print speed 60mm/s
Effective print width 72mm
Print resolution 203dpi 1mm=8dots
Print paper specifications 80mm*30mm
Product High Configuration Hardware
CPU Quad-Core ARM Cortex-A7
RAM 1GB
Flash 8GB
Display 5 inches LCD,resolution ratio 800*480
WIFI 802.11b/g/n 2.4GHz
USB interface Type C interface
Diagnose interface DB15 interface
Operating voltage DC 10V~24V/3A
Pinter Optional
Package List
1 * HD3400 Diagnostic Scan Tool
1 * Main Test Line
1 * 6 Pin & 9 Pin Connector
1* OBDII-16 Pin connectorr
1 * HD3400 Scanner User Manual