ANCEL HD3200 24V Heavy Duty Diesel Truck Diagnostic Scanner Car Full System DPF
customers are viewing this product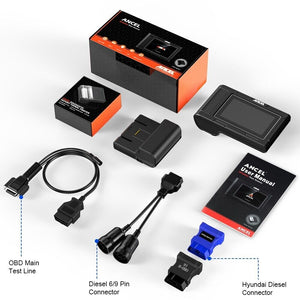 ANCEL HD3200 HD truck diagnostic scan tool has added diagnose FUSO, ISUZU, UD, HYUNDAI, KIA and other Asian diesel truck models
ANCEL HD3200 support 12V/24V Truck and 12V Cars
Please enter the menu "OBD-II" if you want to diagnostic 12V cars.
Please kindly note that you should enter menu "Diesel OBD" if you want to diagnose heavy duty trucks.
Ancel HD3200-Full System Heavy Duty Truck Diagnostic Tool
This Ancel HD3200 is a full system diesel truck scanner diagnostic tool, which allows you to read codes, clear codes, retrieve vehicle information and graph live data stream for all available control modules
ANCEL HD3200 support DPF Regeneration&Oil Reset Service
DPF Regeneration:for Hino,Isuzu, Fuso, UD, Hyundai, Kia
Oil Reset Service:for Hino,Isuzu,Fuso,Kia,Hyundai
ANCEL HD3200 12V/24V Truck Diagnostic Scanner Support Full OBD2 Function
1.Read and clear fault codes, turn-off malfunction indicator light (MIL)
2.O2 sensor test to check fuel efficiency and vehicle emission
3.Display freeze frame data and retrieve vehicle information
4.EVAP test for fuel tank system (Carbon canister test)
5.Read dynamic live datastream, able to store and playback
6.Display I/M readiness status (Non-continuously monitored system test )
7.Advanced On-board monitoring test
8.Support lifetime free upgrade
ANCEL HD3200 support Model List
The only code reader on the market with the proprietary protocol of these car models, with more powerful diagnostic functions. For example, other brands of diesel scanners can also support diagnosis HINO and Isuzu, they can only support models with J1939 protocol after 2012, but the HD3200 diagnostic scan tool can support Hino and Isuzu with the private protocol from 1998 to 2020.
All operations are one-click, so don't worry about not being able to operate anymore!
One-click Activate: This function allows for one-touch activating the scanner tool and you can quickly get started your first truck diagnostic, registration information is optional to fill in. There are no complex settings making it a user-friendly auto scanner.

One-click Screenshot: To save important information about vehicle diagnosis, you can take one click screen capture, and view the screenshots in "Data Management".

One-click Feedback: This diagnostic tool supports one-click feedback. You can give us your feedback via this function if you have diagnostic problems, ANCEL professional technical team will provide you with excellent solutions.

One-click WIFI Update: No need to update on computer. By connecting wifi, it will automatically search for the latest update programe, just click update, you will get the latest version (more car models, bug fix) of this scanner. You will enjoy lifetime update through one-key function.
Pin Detect Function
This function mainly automatically measures the voltage of the OBD diagnostic interface, and judges the pin positions of the K line and the CAN line.
Diagnostic Report Print&Share
ANCEL HD3200 Truck Diagnostic Scanner support Lifetime Free Update via WIFI
Printer Hardware Parameter
Printer 80mm Thermal printer
Print speed 60mm/s
Effective print width 72mm
Print resolution 203dpi 1mm=8dots
Print paper specifications 80mm*30mm
Product High Configuration Hardware
CPU Quad-Core ARM Cortex-A7
RAM 1GB
Flash 8GB
Display 5 inches LCD,resolution ratio 800*480
WIFI 802.11b/g/n 2.4GHz
USB interface Type C interface
Diagnose interface DB15 interface
Operating voltage DC 10V~36V/3A
Pinter Optional
Package List
1 * HD3200 Diagnostic Scan Tool

1 * Main Test Line

1 * 6 Pin & 9 Pin Connector

1* OBDII-16 Pin connector

1 * Hyundai-Diesel OBD-16 Pin Connector

1 * HD3200 Scanner User Manual