Ancel HD100 DPF Bluetooth Heavy Duty Truck Diagnostic Scanner Tool
customers are viewing this product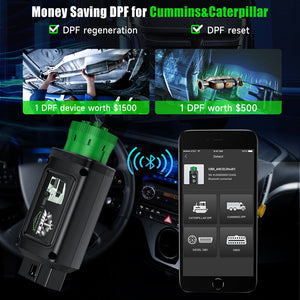 Ancel HD100 DPF Bluetooth Heavy Duty Truck Diagnostic Scanner Tool
ANCEL HD100 Bluetooth Heavy Duty Truck Scanner Full System Code Reader DPF Regeneration for Cummins for Caterpillar 16 Pin/9 Pin
The ANCEL HD100 Bluetooth scanner is a professional smartphone diagnostic device for the repair and maintenance of heavy, medium and light trucks in North America. It is a compact scanning tool for truck repair, fleet management/maintenance personnel, truck drivers, truck sales/rental/auction professionals to quickly and easily access vehicle electronic control units and sensors. At the same time, the the industrial-grade Bluetooth module is used for communication without various diagnostic cables and adapters
Choose it for your truck!!
Main Feature
1. Both 16-pin and 9-pin trucks are supported

2.Support mobile Android system and IOS system

3. Auto Scan + Full System Truck Scanner: System diagnostics allows you to read and clear all electronic modules, compatible with Freightliner, International, Kenworth, Mack, Peterbilt, Sterling, Western Star and for Volvo. Supported Engines includes Cummins, Caterpillar, Detroit, Paccar. Supported Transmissions and ABS includes Allison, Bendix, Eaton, Wabco, ZF. Compatible with More New Trucks: SAE J1939, SAE J1708, ISO 27145

4.DPF Regeneration: OEM level DPF function for Cummins and Caterpillar. Including DPF regeneration, DPF reset, BlueTec, DPF related information reset, DPR state reset, forced DPR regeneration, differential pressure check, DPD forced regeneration etc; OEM level service reset function for ISUZU FUSO provides you with the highest quality maintenance.

5. Lock and Use: Newly added lock for diesel diagnostic port, greatly help to address the. Indicator light, battery voltage monitor gives more diagnostic information.

6. View Live Truck Data: Can quickly display data from a live view of vehicle sensors in test and graph formats.
OEM-Level Full Systems Diagnostic
This truck scan tool Supports to scan full system. You can get real time data related to system and do some repair by yourself using this truck tool, which will save much time and money for you.

Power Transmission: Engine, Construction engine, Hybrid, VCS(Vehicle Computer Simulation), Transmission, Integrated Control, Integrated Security System, Motor Control, Battery/SCR.

Chassis: Anti-lock braking system, EZGOC(Wheel Brake Special System), Retarder.

Carbody: Immobilizer, SRS Airbag, SWS (Smart Writing System), Headlamp Auto-leveling, ABS, ASR, EBS, ESCOT, ESP, EPS, AT System, Smoother, HSA/ CFS, BCM, BCM(MIMAMORI), VIM(Vehicle Interface Module), UDS, Gas Treatment, DCU/ BCU, Instrument System, Suspension System, Pro-shift, Inverter, Kneeling, Drivetrain, Scanning Cruise/LDWS/PCS, Tire Pressure Monitoring System, Ldfing Stop System, Clutch System, Anti-theft devices, Blocker, PESS(Passive entry and start system), PIM(Powertrain interface module), Chassis ESC, Air Suspension, Headlamp Auto-leveling.
Ancel HD100 Truck Scanner Supported List:
Coverages(Diesel OBD)

HD Trucks: for Freightliner, for International, for Kenworth, Mack, for Mercedes Truck, for Peterbilt, for Sterling, for Western Star, for Volvo...

Engine: for Cummins, for Caterpillar,for Detroit, for Paccar...

Transmission and ABS: for Allison, for Bendix, for Eaton, Wabco, for ZF...

Global coverage for off road equipment : for BobCat, for Case, for Caterpillar, for John Deere, for Komatsu, for Terex, for Volvo...

Coverages(OBDII)

Car (Domestic): for Buick, for Cadillac,for Chevrolet, for Chrysler, for Dodge, for Ford,for GM, for GMC,for Lincoln, for Jaguar, for Jeep, for Pontiac, for Saturn


Car (Europe): for Audi, for Bentley, for BMW, for Fiat, for Jaguar, for Land Rover,for Mercedes Benz, for Mini, for Porsche, for SAAB,for Smart, for Sprinter, for Volvo, for VW


Car (Asia): for Acura, for Daewood, for Honda, for Hyundai, for Infiniti, for Isuzu, for Kia, for for Lexus, for Mazda, for Mitsubishi, for Nissan, for Scion, for Subaru, for Suzuki, for Toyota;


Pickup (or Van): for Silverado, for Coronado, for Ford (F150-750), for Ford E-series, for Dodge RM 1500-5500, for GMC,for Nissan Frontier, for Toyot


Note:If you not sure if this device can support your car or not , pls leave us message. xxx car brand, xxx car model ,xxx year,Thank you.
DPF Regeneration (for Cummins, Caterpillar)
DPF Regeneration is used to clear PM (Particulate Matter) from the DPF filter through continuous combustion oxidation mode (such us high temperature heating conbustion, fuel additive or catalyst reduce PM ignition conbustion) to stabilize the filter perfornance. An unmaintained DPF runs your vehicles unnecessarily hard and less efficient. With regular DPF maintenance, you can save lots of dollars and time by getting your DPF cleaned, restore your DPF to nearly new! Increased Fuel Economy up to 5%. Avoid costly replacement of the filters. Lower Overall Maintenance Costs.

DPF regeneration may be performed in the following cases:

(a) The exhaust back pressure sensor is replaced.

(b) The PM trap is removed or replaced.

(c) The fuel additive nozzle is removed or replaced.

(d) The cataytic oxidizer is removed or replaced.

(e) The DPF regeneration MIL is on and maintenance is performed.

(f) The DPF regeneration control module is replaced.
Faster operation, saving your diagnosis time One-click Feedback
This diagnostic tool supports one-click feedback. You can give us your feedback via this function if you have diagnostic problems, ANCEL's professional technical team will provide you with excellent solutions.

One-click Upgrade(Liftime Free Update)

No need to update on computer. By connecting wifi, it will automatically search for the latest update programe, just click update, you will get the latest version (more car models, bug fix) of this scanner. You will enjoy lifetime update through one-key function.

Battery Voltage Display

Support Print & Share Report
HD100 scanner supports the printing function, which can print diagnostic report data such as vehicle information, fault codes, and data streams, and can also print software interface. You can share the health report of your car with others via email, and you can also send it to yourself. which is very convenient.

Connection Modes
Please enter the menu "OBD-II" if you want to diagnostic 12V cars. Please kindly note that you should enter menu "Diesel OBD" if you want to diagnose heavy duty trucks.

The following is an operation description of these two connection modes:

1) Connection of standard OBD-II interface - The vehicle only needs to use the integrated main test line OBD connector, and no other connectors are needed.

2) Connection of Diesel OBD interface - Vehicles need to connect the main test line with the corresponding special connector.
ANCEL HD100 Package List
1pc x HD100
1pc x Packing box
1pc x User Manual
User Guide:
1. Download and Install App

Search for and download "Ancel trucker" in the App Store or Google Play.

2. Register and Login

The first time you use the App, you need to register an account. Input an account and an E-mail address, and check the user registration agreement to log in to the App.

3. Plug the Device into Diagnosis Port

Note: Use OBD-II 16 pin or Diesel 9 pin, it depends on your vehicle.

4. Bluetooth and Wi-Fi Connection

Both Bluetooth and Wi-Fi connections are supported, both of them have names starting with "OBD_ANCEL".

For the first time logging in to the system, it will remind you select a VCI device. Click the icon "+" and then the system scan the nearby Bluetooth devices firstly. You also can select the Wi-Fi by hand.

Note: Bluetooth is recommended for connection, and make sure location is turned on before entering the Ancel Trucker. If connection failed, please restart the App.

5. Start to Use the Device

After the connection succeeds, you can enter the main diagnostic page. Click the icon "enter" to enter the diagnostic page. Then you can use all functions of your device.