Ancel BM500 OBD2 Code Reader Scanner Professional Full System Enhanced DPF BMS
customers are viewing this product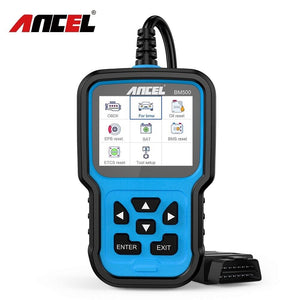 Ancel BM500 OBD2 Code Reader Scanner Professional Full System Enhanced DPF BMS
Ancel BM500 OBD2 Code Reader Scanner Professional ODB2 Full System Enhanced DPF BMS EPB TPMS Reset OBD 2 Automotive Scanner
Ancel BM500 OBD2 Automotive Scanner Description
Overview:
-ANCEL BM500 is professional diagnostic scanner for BMW/MINI/Rolls Royce vehicles most electronic systems between 1998 to 2019 almost all models OBD2 connector vehicles,
-it can support drive ECM, body BCM and chassic multi system diagnotic and service reset functions, and also a OBD2/EOBD universal tool to detect engine system for other brand vehicles.
-Include 2. 4" TFT true colorful LCD display screen to indicates the test results , with the silicone keypad you can easy to access the each of menu options, Rugged drop-proof case Prevent falling, the menu layout on the screen is easy to understand and you will no trouble to figuring out how to do what you needed.
Top reasons to choose ODB2 Car Diagnostic Ancel BM500:
1.Professional supports more Chassis for BMW/Mini/Rolls Royce all system diagnoses;
2.Not only for BMW, read engine fault code for all OBD2 cars(only for engine system);
3.Support English,French,Spain,Italian,Germany multi-language user manual;
4.Support multi-language software
5.Lifetime free upgrade online;
6.Hotkey for I/M & read DTC , Scans faster than similar products ;
7.Suitable for personal and auto repair shop
OBD2 Automotive Scanner ANCEL BM500 Support Languages:
English,French,Spanish,German,Russian,Swedish,Portuguese,Finnish,Norwegian,Danish
Basic Functions for BMW/MINI/Rolls Royce:
1.Read & Clear fault codes
2.Turn off fault light
3. Read data stream in text and graph
4. I/M Readiness test,
5. Smog emission test
6. Vehicle Information
All System Diagnostic & Special Service Reset Functions:
All System Read & Clear fault codes,Turn off fault light and read ecu information;

Oil Reset Service;

CBS Reset:Engine Oil Reset,Spark plugs,Front brakes,Rear brakes,Coolant,Diesel particle filter,Brake fluid,Microfilter,Vehicle inspection,Exhaust emission inspection,Vehicle check.

engine IQA reset;

Idle speed adjustment;

Engine fuel injection rate;

Engine CO adjustment;

Record battery replacement;

Assess battery charge status;

Evaluate battery charge state
ANCEL BM500 Coverage vehicle list:
1 Series Chassis: E81/E82/E87/E88/F20/F21/F52
2 Series Chassis: F22/F23/F45/F46/F87
3 Series Chassis: E46/E90/E91/E92/E93/F30/F31/F34/F35/F80/G20
4 Series Chassis: F32/F33/F36/F82/F83
5 Series Chassis: E39/E60/E61/F07/F10/F11/F18/F90/ G30/G31/G38
6 Series Chassis: E63/E64/F06/F12/F13/G32
7 Series Chassis: 38/E65/E66/E67/E68/F01/F02/F03/F04/G11/G12
8 Series Chassis: G14/G15/G16
X Series Chassis: X1 E84 F48 F49/X2 F39/ X3 E83 F25 G01/X4 F26 G02/X5 E53 E70 F15 F85 G05/ X6 E71 E72 F16 F86/X7 G07
Z Series Chassis: Z3 E36/ Z4 E85 E86/Z4 E8/Z8 E52
I Series Chassis: I3 I01/I8 I12
MINI Series Chassis:
R50/R52/R53/R55/R56/R57/R58/R59/R60/R61/F54/F55/F56/F60
Rolls-Royce Series Chassis: RR1/RR2/RR3/RR4/RR5
How to Update the OBD2 Auto Scanner ANCEL BM500
After you find your model of your car please according the step to download the zipped file ,then Double click to unzip the file .you may see three information :1.Help.avi 2.README.txt 3.Update.exe you can look 1 and 2 for some help.

1.Click Ancel official website, download ancel client update tool software

2.Please connect device and computer with USB cable before upgrading.

3.The update software is only supported by windows 7/8/10.
(Win8/10 can run update software directly, only windows 7 need to install the driver.)

4.Click "install driver.bat" in the driver file to install the driver.

**Make sure that then Double click the "Update.exe" finish the process .
About the "Battery Register ",please see the" User Guide" on this listing's detail page " Technical Specification" part ,and according the step to operate.
FQA Area
1.How to get it start?
Simply plug into the OBD II port on your car and turn ignition on and you ready to go. It does not need any battery or charger, gets the power directly from the OBDII data link connector in your vehicle.

2.Why the vehicle linking error?
I: Confirm that the ignition is ON, check if the scan tool's connector is securely connected to the vehicle's DLC;
II: Turn the ignition off and wait for about 10 seconds and turn the ignition back to on and continue the testing;
III: Verify the control module is not defective.

3.How can I change the Russian Language Menu?
AUTOPHIX 7910 Works with English, German, French, Spanish, Finnish, Dutch, Russian, and Portuguese, you can choose from the settings menu.

4.How can I change the brightness of the screen?
ANCEL BM700 have two skin style for choosing, you can choose white skin to enhance visibility during the day, and you can choose black skin to protect your eyes during the night. These functions can be implemented on the settings menu.

5.Would this work on 2010 bmw x5 e70 diesel?
Yes,this device support full function diagnostic for most of BMW.

6.Does it free update online free?
Yes,lifelong free update online.

7.I have a 2004 bmw 525i and a 2011 z4 3.0.Will this reader work on both?
Yes,it will support.

8.Will this work on 2003 e320 Mercedes?
No,it is professional scanner for BMW&MINI&Rolls-Royce diagnostic