4G Waterpoof Pet Dog Cat GPS Tracker WIFI Voice Monitor Real Time Tracking Locat
customers are viewing this product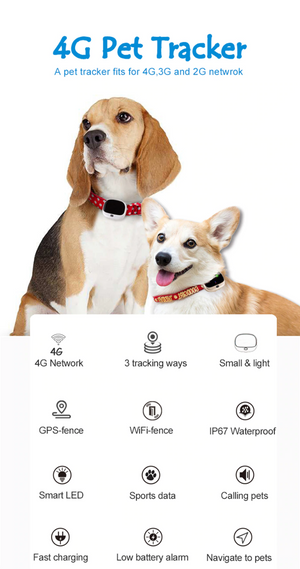 4G Waterpoof Pet Dog Cat GPS Tracker WIFI Voice Monitor Real Time Tracking Locat

PRODUCT HIGHLIGHTS
4G LTE+3G WCDMA+2G GSM networks 
 Waterproof IP67
LED rolling lights based on light sensor automatically
 GPS positioning, with accuracy of 5m outdoor
 WIFI positioning, with accuracy of 30m indoors
 Web platform/ Phone App/ SMS for positions check
 Historical route
 Geofence: GPS fence & WIFI fence double care 
Step counting
Voice monitor
 Low battery alarm
 Ringtone to find your pet
4G Dog GPS Tracker V43 Voice monitor Pet GPS Tracker Real time Tracking WIFI Cat Locator LTE+WCDMA+GSM Waterpoof IP67 Free APP
How to Use our 4G V43 Pet GPS Tracker:
Step 1: Get a new SIM card:
1). Get a new Nano SIM card.
Choose Nano SIM card as below instruction.
2). Activate the SIM card's Cellular data plan and Caller ID display function. (Tracking needs consume data, making phone calls also needs charges.)
Step 2: Learn your Tracker device details:
Step 3: SIM card installation and power on
1). Please make sure the tracker is powered off before inserting SIM card;
2). Open the Sim slot with screw driver and insert SIM card into the slot according to the direction in diagram below. When in correct way, the SIM card will give an elastic feel. If not, please stop and check SIM direction. (Warning: Wrong SIM card direction will cause damage to SIM base for normal use.)
3). To ensure waterproof, please install the SIM slot cover with screws as diagram shows on right.
4). Please use the magnet charger to recharge the device.
5). Press 5 to 7 seconds of the power button to turn on it. (The front blue and red indicator lights on for 2 seconds and release the button.)
Step 4:Install APP by tracker Guardian
Guardian needs to scan the QR code in last page of this manual with smart phone, download and install the tracking App.
Step 5: Login App
Login the App with the 10 digits ID No. on device back label, default password is 123456.
Step 6: Location check
Real time tracking and interval for uploading:Display the last location of GPS tracker. For the latest location, press the "Single-refresh" button on map right top. Press the "interval for uploading" and choose different interval times.
Historical route: Display the historical route of any day in energy consumption.
Talk:
1). Call to tracker: To call your pet tracker when click it;
2). Voice monitoring: To request a one-way call from tracker to the number you type and hear the sound around tracker.
Settings:
All settings need to work when App shows device online with the sim card's data plan.
1.About the device:Check and edit tracker's information.
2.Change password:Change APP and Web platform's password.
3.Main monitoring number:The number used for commands sending and SMS alerts receiving.
4.Set SOS number:Preset SOS numbers to monitor the sound around tracker. (Note: For privacy of tracker user, non-SOS numbers couldn't call the tracker.)
5. SMS alert switch:Turn on this setting to enable the tracker to send SMS alerts to main monitoring number.
6. Sensor light: Turn on or off the sensor lights on tracker, to enable they to be automatically on in darkness surroundings, which makes the tracker easier to be found.
7.Signal light: Turn on or off the signal indicator lights on tracker;
8. Find your pet: When activate this function, the tracker will send out ringtone for being found easily.
9.Device Language and time zone: Set tracker SMS alerts' language and timezone. Options are Chinese and English.
10. Remote reboot: To reboot the tracker from this setting.
11. Remote power-off: To power-off the tracker remotely.
PACKAGE CONTENT:
 
1* GPS anti-lost host 
1* Back clip
1* USB magnet charging cable 
1* User manual.
2* Extra screws 
1* Screw driver
​1* Original retail box