3G Magnetic GPS TRACKER 10000mAh Waterproof IPX7 Anti
customers are viewing this product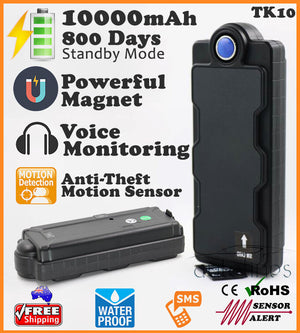 3G Magnetic GPS TRACKER 10000mAh Waterproof IPX7 Anti-Theft Vehicle Car Truck

PRODUCT HIGHLIGHTS
3G / 4G Compatible: WCDMA GPS tracker supporting multiple modes of HSDPA/UMTS/EDGE/GPRS/GSM; UMTS1900/850 or 2100/900 MHz(option); GSM850/900/1800/1900 MHz;
RECHARGEABLE & REMOVABLE BATTERY: 10000mAh - Up to 800 Days in Standby Mode.
BUILT-IN POWERFUL MAGNET: Cost Effective & Easy installation within a second 
POWERFUL MAGNET
DISMOUNT, VIBRATION AND MOTION SENSOR ALERT
 VOICE MONITORING: Remote Voice Monitoring function with DSP within 5 meters of effective (from Mobile Phone)
 Anti-theft: Built-in Motion Sensor & Geo-Fence: Automatically send an SMS or call alert once motion is detected or once it moves out of the pre-setted boundry
 Drop-Alert Sensor
 IPX7 Waterproof & Dustproof
 GPS & GPRS: Easy GSM SMS tracking with street name in SMS Text
 Iphone & Android devices compatible
Free Web Based Tracking & also supports third party software (GPSGATE, GTS-OPENGTS, GURTAM etc)
Portable Magnetic GPS Tracker TK05G
Designed to survive in the harshest conditions. 
Delivering superb performance & accurate locations using state of the art GPS over the cellular network.
Weatherproof & Durable. 

  Powerful built-in super-magnets: the TK05 requires over 50 pounds of direct lift to be removed from any ferrous surface making it an ideal manager for remote,   and un-powered installations such as heavy construction equipment, RV's, Assets, Cargo and all sort of vehicles.
     The TK05 can be easily be installed under a vehicle for a quick and accurate covert tracking installation.
     The TK05 can be easily reprogrammed via SMS by the user to set and reset it's scheduled and motion detected location reporting.  
  The TK05 is can be used as a home alarm portable security device for safe and valuables  
  The TK05 is Flexible, Portable & Suitable for all families or companies        
Features:

  • Power button to active device quickly 
• 5000mAh Lithium-ion battery with industry standard & up to 400 days standby with deep sleep function that will shut down both GSM and GPS to save battery
• Maximum 120 days working days based on 6 location uploads/updates per day, the rest time in deep sleep
• Instant call alert for anti-theft when the vehicle has moved
• Drop sensor alert build-in: Drop alert will be automatically activated once tracker is attached to the iron surface. Owner will receive a immediate drop alert by call or SMS once device is removed.
• GSM 850/900/1800/1900 Quad-band 
• Build-in GPS/GPRS and Antenna   
• Built-in motion sensor to save power and either send SMS or call the registered (master) number when movement or vibration is detected – excellent anti-theft function.
• Remote Bug Monitoring function with DSP within five meters of effective   
• Built-in watchdog CPU to avoid system crash
• Automatic Geo Fence that will set radius (from 1 – 99 km) fence around the device: Movement within this area is ignored but any breach of the boundary will trigger the alert to the registered number
• Web based Real-time tracking and replay or locate via SMS: Easy to operate using SMS and can be tracked over the FREE website platform (see installation guide below) or IOS App (GPS Tracker Pro). Send commands via SMS to receive information about the GPS device, including a Google maps link which you can click from the SMS message, or SMS command to send the address details of where the GPS device is located