M50 Intelligent Inclinometer Off-road 4X4 Car Accessories GPS HUD Di
customers are viewing this product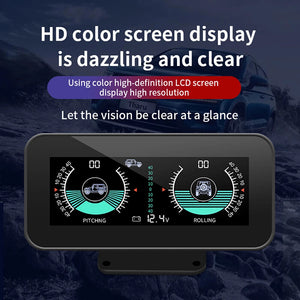 2021 Newest M50 Intelligent Inclinometer Off-road 4X4 Car Accessories GPS HUD Digital Display Tilt Pitch Angle Suitable for 12/24V All Cars
Product Review:
Vjoycar M50 Automotive Intelligent Inclinometer is a meter with a built-in multi-functional and multi-axis gyroscope, which can work on all cars. It can measure the vehicle's pitch angle, roll angle, driving mode selection and safety alarm prompts, which greatly improves driving safety.
Product Highlights:



1. Intelligent Inclinometer Off-road 4X4 Car Accessories.
2. Plug & Play: Start with the car and turn off with car's engine off.
3. Easy installation: with cigarette lighter, can work on all vehicles.
4. Built-in Slope Sensor: for pitching angle, roll angle measurement.
5. Driving mode switch: Off-road driving mode & city driving mode are available.
6. Roll angle reset;
7. Built-in light sensor, can adjust the brightness automatically;
8. Display data: Pitch Angle, Roll Angle, Voltage, Driving mode;
9. Alarms: Tilt Angle Danger alarm, Pitch Angle Danger Alarm;
10. Accept OEM & ODM Orders: Add Start-up Screen with your logo; Customize Package; Add new functions and display interfaces...
Slope meter / Inclinometer function, Pitch Angle: -40 to 40 degree, Roll Angel: -40 to 40 degree:
Real-time measurement of vehicle rolling angle and pitch angle. Accurately display the downhill/uphill  and left/right inclination value and equipped with over-slope alarm