Autel MaxiCOM MK808S OBD2 Scanner
customers are viewing this product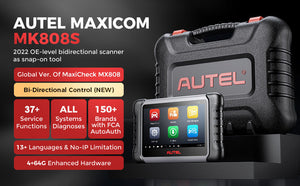 Autel MaxiCOM MK808S OBD2 Scanner Automotive Car Diagnostic Tool OBD2 Scanner Active Test Code Reader Key Coding Tool MK808 MX808
MK808S (Upgraded of MK808)
Autel MaxiCOM MK808S OBD2 Scanner Automotivo Car Diagnostic Scan Tool Bi-directional Control OBD 2 Code Reader OBDII Key Coding MX808 DS808
✔ MK808S newly added functions
■Bi-Directional Control (Active Test)
You can figure out whether a specific subsystem or component in your car functions well or not by using this tool to make the tester outputs function instead of checking in ignition status.

Click the "Update" icon to upgrade the MK808 system version to V2.62 or above to get all new features.
■Support MV105/MV108 Inspection Camera
Autel 105 108 MaxiVideo Inspection Video Scope is compatible with MK808, maximizing the potential of MK808 to examine and clean difficult-to-reach car areas, such as spark plug holes, engine cylinders, and other small parts, quickly and safely.

Note:MV105/MV108 need to buy separately.
■More Language optional
English, German, Spanish,Japanese,Portuguese, Dutch, French, Italian.Korean, Russian ,Polish,Swedish,Persian,Turkish,Thai,Vietnamese,Hebrew,Arabic,Indonesian

After you get the product, please tell us your SN of machine to activate the language you need .
The SN can be located on the back of the device's body or in the following menu path "Maxisys-> Settings -> About Us"
■36 Service Functions
Designed for large-scale garages and equipped with 36+ repair functions, Autel MK808 covers 99% of cars in the market. This make it the most valuable scanner to serve as many cars as possible in your shop. The 36+ functions include Oil Reset, TPMS, ABS Bleeding, EPB, SAS, Injector Coding, BMS, Suspension, etc.
■FCA Auto Auth
With the newest update on Autel scan tool MK808, you now have access to the security gateway module on 2017 and newer Fiat Chrysler vehicles, so that the diagnostic tool can clear codes, run bi-directional active tests, actuations, relearns or even IMMO key programming (pulls PIN & write), ADAS calibration assistance etc.
■ All Systems Diagnoses
The Diagnostics application enables a data link to the electronic control system of the test vehicle for vehicle diagnosis. The application performs functional tests, retrieves vehicle diagnostic information such as trouble and event codes and live data for various vehicle control systems, such as ABS, SRS, Engine, Transmission, Brake System, Emission System, Fuel system, Light system, Wiper System etc.
■ 2 options available when accessing the Diagnosis section
1. Auto Scan –The Auto Scan function performs a comprehensive scanning of the ECUs in the vehicle's system to locate and retrieve DTCs.

2. Control Units – displays a selection menu of all available control units of the test vehicle.
■ 4 methods for Vehicle Identification
1.Auto VIN Scan

The MaxiCOM diagnostic system features the latest VIN-Based Auto VIN Scan function to identify vehicles and scan all the diagnosable ECUs and run diagnostics on the selected system. This function is compatible with 2006 and newer vehicles.

2.Manual VIN Input

For vehicles not supporting the Auto VIN Scan function, you may manually enter the vehicle VIN.

3.Automatic Selection

The Auto VIN Scan can be selected after selecting the test vehicle manufacturer.

4.Manual Selection

When the vehicle's VIN is not automatically retrievable through the vehicle's ECU, or the specific VIN is unknown, the vehicle can be manually selected.
■ ECU Information
ECU Information – retrieves and displays the specific information for the tested control unit, including unit type, version numbers and other specifications.
■ Read Codes
Read Codes – displays detailed information of DTC records retrieved from the test vehicle's ECU. On some vehicles, freeze frame data can also be retrieved for viewing.
■ Erase Codes
Erase Codes – erases DTC records and other data from the test vehicle's ECU.
■ Live Data
Live Data – retrieves and displays live data and parameters from the test vehicle's ECU.Display live data in text, graph & analog for easy data review.
■ 36 Kinds of Special Reset Service Functions
Oil Reset Service

Performs reset for the Engine Oil Life system, which calculates an optimal oil life change interval depending on the vehicle driving conditions and climate, and turns off the warning light;

Electronic Parking Brake (EPB) Service

Maintains the electronic braking system safely and effectively through deactivating and activating the brake control system, assisting with brake fluid control, opening and closing brake pads, and setting brakes after disc or pad replacement, etc.

Steering Angle Sensor (SAS) Service

Performs calibration for the Steering Angle Sensor (SAS), which permanently stores the current steering wheel position as the straight-ahead position in the steering angle sensor EEPROM. On successful completion of the calibration, the steering angle sensor fault memory is automatically cleared.

Tire Pressure Monitor System (TPMS) Service

The TPMS service function include displaying sensor IDs from the vehicle's ECU, inputting TPMS sensor replacement IDs and testing sensors

DPF Service

carry out numerous functions to the Diesel Particulate Filter system. The tool will manage DPF regeneration, DPF component replacement teach-in and DPF teach-in after replacing the engine control unit.

BMS Reset

Re-match the control module and motoring sensor for battery detecting more accurately, clear original low battery information and prevent the related control module from detecting false information.

IMMO Service

enables you to disable the lost vehicle keys and program a replacement key fob.

ABS Bleeding

ABS brake bleeding to get a firm brake pad after air exhaustion.

Throttle Matching

to initialize the throttle actuators to the default state for regulating throttle (or idle engine) operations accurately

Injector Coding

to make the cylinder better identify injector after ECU or injector is replaced.

Suspension

Seats

Lang Change

Trans adaption

TEC learn

Headlamp

CHG Tire Size

WIN DR ROOF
■ Complete OBD2 functions
Reading Codes: Show the detailed description of the Diagnostic Trouble Code (DTCs)

Erasing Codes & Reset: Turns off Check Engine Light (MIL), clears codes and resets monitors.

Data Stream: Reads and displays live ECU/PCM data stream, plotting functions graphically and stores freeze frame data.

I/M Readiness Status: Shows whether the various emissions-related systems on the vehicle are operating properly and are ready for inspection and maintenance testing.

Read Live Data Stream: Show the information of continuous data stream from a vehicle in live graphic (waveform) display.

View Freeze Frame Data: Check the certain vehicle conditions which are recorded by the on-board computer at the time the emission-related fault occurs.

O2 Sensor Test: Allows retrieval and viewing of O2 sensor monitor test results for the most recently performed tests from the vehicle's on-board computer.

On-Board Monitor Test: Retrieves and displays test results for emission-related powertrain components and systems.

Read Vehicle Information: Display the information such as VIN (Vehicle Identification Number), CID (Calibration ID) and CVN (Calibration verification number), etc.

Component Test: Certain vehicle components can be actuated by commands sent from the scanner to test their operability.
■ Additional Features
*SHOP MANAGER – If you are a mechanic shop owner, the Shop Manager will keep all your customer information, data files, and vehicle records well-organized.

*DATA MANAGER – If you are a car hobbyist that works on cars a lot, this scanner would also probably be worth your money to get. The Data Manager opens the organization system for saved data files.

*REMOTE DESK –By using  REMOTE DESK users can receive ad-hoc remote support from Autel's technical engineers, colleagues, or friends, by allowing them to control this tablet device on their PC via the TeamViewer software.
■ Will the Autel MaxiCOM MK808/MK808S work on your vehicle? This scan tool is probably one of the most extensive diagnostic scanners that you want to lay your hands on.
For most vehicles manufactured after 1996, the scanner delivers all the basic OBD2 functions advertised, and clears tricky manufacturer trouble codes. Also, you can use the scan tool on 56 brands of US, EU and Asian-made car models with OBD2 systems, to run advanced professional functions:

- Europe:

Benz, Sprinter, BMW, Fiat, LandRover, Maserati, Opel, Peugeot, Porsche, Lancia, LT3, Maybach, Mini, Seat, Skoda, Vauxhall, Volkswagen CV, Renault, Saab, Smart, Volvo, Volkswagen, Abarth, Alfa, Audi, Bentley, Bugatti, Citroen, Dacia, Ford, Jaguar, Lambor Ghini

- Asia:

Acura, Daewoo, Daihatsu, Honda, Hyundai, Infiniti, Isuzu, Kia, Lexus, Maruti Suzuki, Mazda, Mitsubishi, Nissan, SsangYong, Subaru, Suzuki, Toyota, GTR, Scion

- America:

Chrysler, Ford, GM, Dodge, Jeep
■ Warranty & Update
*One Year Warranty for Any Quality Problems
*Lifetime Free Tech Support
*One Year Free Update.The update fee is usd125 per year.
*Lifetime free use.
■ Different Choice for Diagnoses
MK808/MK808S is suitable for most OBD2 vehicles and support many car brands like Ford, Honda, Chevrolet, Jeep, Toyota, Dodge, GM, Volkswagen, Audi, BMW, Benz, etc.
When it comes to the Non-OBD2 vehicles, you can connect the device with vehicles via adapters (not included) to complete car diagnoses, and the signal connected will be more stable. This diagnostic tool support different kinds of adapter connection.
The difference of MK808S and MK808
MK808S is MK808's updated version.
MK808S have more advanced hardware. You can check the following difference.

■ MK808S Hardware
CPU: Rockchip RK3566
RAM:4G
ROM:64G
Battery Capacity:5000mAh
Android Version:Android 11
Screen Size:7inch
Wifi:2.4 & 5 GHz
VCI:main cable

■ MK808 Hardware
CPU: Rockchip RK3188
RAM:1G
ROM:64G
Battery Capacity:5000mAh
Android Version:Android 4.4.4
Screen Size:7inch
Wifi:2.4 GHz
VCI:main cable
■ Package List
1.Main unit
2. USB External Power Adapter
3. Main cable
4. Quick Reference Guide
5. Carry case
6. Mini USB Cable